When I started Woodrum Law LLC in January 2014 I didn't imagine that a little over a year later I'd been welcoming another attorney into the fold.  As of June 1, 2015, Adam L. Woodrum, Esq. has gone from practicing law as a government attorney (both on the prosecution and defense sides) to join private practice.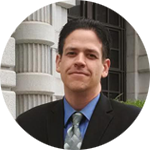 Adam has extensive experience with criminal cases at a number of stages – from arraignments to trials and even appeals.  He was admitted to the US Supreme Court to practice recently relating to a case he had argued at the Ninth Circuit level.  He most recently served as the Senior Public Defender for White Pine and Eureka counties in Nevada and before that was a Deputy Attorney General for the State of Nevada.
I've had the pleasure of seeing Adam argue at trial as well as before the Ninth Circuit and he is a skilled advocate who cares deeply about Constitutional Rights.  I have joked that bringing him into the fold means I don't have to change my firm name but I genuinely believe Adam's dedication and expertise will enhance Woodrum Law's offerings to clients.
You can reach Adam directly at 702-219-0572 or e-mail him at adam@woodrumlaw.com.  Check out our newly redesigned website at http://www.woodrumlaw.com