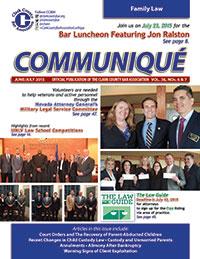 Note: This article was originally published in the Communiqué, the official publication of the Clark County Bar Association (June/July 2015).
Even in transactional work, attorneys use the phrase "relationship," not "transaction" to describe the attorney-client dynamic. In the fields of elder, estate, and guardianship law, the source of client direction is not always clear and the harm that a lawyer can facilitate is reason for caution. Wills, trusts, powers of attorney, and even guardianships are readily drafted by well-meaning attorneys, but are not always the protective constructs they should be.
Drafting a will that comports with Nevada law is a relatively simple task. But, what about the contents of that will? What of the person who brought the testator to the law firm and sat with them in a consultation? Also, banks time and time again do not seek the required documentation of incapacity under terms for powers of attorney, so counseling clients of these risks is crucial for appropriate advocacy.
What follows is a breakdown of the warning signs attorneys should be aware of so that they do not unwittingly assist in the unjust enrichment of exploiters. Attorneys can help remember this by using the mnemonic device to "Follow the M.O.N.E.Y." While there are never guarantees, even pausing to reflect on the nature of work being performed and the dynamics of a given client relationship can make all the difference.
Money
Most retainer agreements have a provision reminding a client that, even when an attorney's fees are being paid by another, the paying party doesn't have the right to direct a case. Simple enough. A cautious attorney should ask why Jane Doe is offering funds and whether it means she has substantial access to John Smith's accounts or if a trustee is seeking representation to defend claims that they have breached fiduciary obligations to the settlor, whether the trustee is paying for legal fees with funds from the settlor's accounts.
An attorney should never turn a blind eye to the method of payment for legal fees or advise a client to tap into the very account that is accused of being misused to mount a defense. If the capacity of one's client is under scrutiny, an attorney should seek court authorization for appointment and payment instead of letting them sign checks for legal fees paid to the attorney.
Obligations
Attorneys have a duty of loyalty to their clients spelled out specifically in conflict and confidentiality provisions of the rules of professional conduct. Rules relating to those acting as an intermediary use language to require looking at the best interests of a client. For example, NRPC 1.14 encourages lawyers to, "as far as reasonably possible," keep a typical attorney-client relationship with the client, but shift those obligations when there is reasonable belief of diminished capacity. The lawyer in such a situation needs to weigh protective actions for the benefit of their client, including those that may compromise confidentiality and cause conflicts.
Obligations to a client include assisting them in scrutinizing those they are seeking to nominate as fiduciaries for their affairs, which is a variant of informed consent, if you will. A lawyer should speak to the client about the skillset of a proposed nominee. After all, if legal practice was merely filling in blanks in a form, people wouldn't need attorneys.
Narrative
Attorneys must ask questions and get to know the client's story. An attorney should not view a client's requests or case in a vacuum. A common occurrence in exploitation cases is the last minute estate plan change, such as a will that is suddenly modified to benefit a "long-time friend" who turns out to have come into the client's life mere weeks prior. An attorney responsible for drafting amended estate planning documents that opens an estate up to an exploiter clearly has not probed into the connection or relationship between their client and the person arranging the appointment. In one case, the alleged exploiter (who fled the country once their actions were investigated) had only met the incapacitated individual a few weeks prior but represented to a law firm that they were longtime friends.
Not only is meeting a client alone a must, an attorney should make sure that he or she conducts substantive client meetings instead of support staff. Often, however, exploitation reporters do not originate in law offices, but in banks where tellers have seen customers on multiple occasions and notice changed behaviors.
Earmarks
Changed beneficiary designations are within the rights of a client to effectuate, but can be indicative of problems at home. Earmarks that are detrimental to the client can also be an indication, especially ones that would leave them unable to live out their years as they would hope. Home healthcare, for example, is costly, but for many it is their wish to live in the comfort of their home versus a skilled nursing facility.
A person can lack capacity in some areas but not others, so discretion and sensitivity are also important to consider. Testamentary capacity to change or create a will often holds up even when contractual capacity for a trust amendment may not. Clients also need to be aware that beneficiaries who wear other hats, such as trustees, may make decisions to preserve the estate for inheritance and not for comfort during the life of the client.
Years
Protecting incapacitated individuals is often a race against time. The degenerative conditions from which a client may suffer outpace calendar call dates. The expenses of care make deciding to pursue recovery a major judgment call. In one case, an elderly veteran had lost his wife of several decades, married a caregiver, and had an attorney amend his estate plan for the benefit of his putative wife in just a matter of weeks. A lifetime of hard work and service did not ensure the comfort of his final months because his new wife had his trust and will amended to her own benefit and then skipped town.
Often, real property conveyance is a red flag that may be out of the control of an attorney, but it would do an attorney well to be cautious about helping with transfers of property that could leave a client homeless or without use of their retirement for their own benefit. Most of all, an attorney must be wary of litigation-style tactics that would delay resolution of a case. By all means, an attorney should advocate zealously, but be careful of opposing counsel who try to hint that the simplest case resolution would be to wait for an adult ward to pass away.
Also, pursuing a client's best interests
The short-term benefit of payment to draft a will or trust amendment could have lasting and detrimental effects on a client's life. Civil (and criminal) remedies to lock the barn door once the horse has bolted are unlikely, as a practical matter, to mitigate the harm to a client in an exploitative relationship. Many of the recent cases involving reports of exploitation have arisen after another attorney's office has made seemingly innocent estate plan changes that are ultimately revealed to have been directed by exploiters.
This type of practice does offer its bright moments as well. I have seen more than one attorney take personal and sincere interest in their client. One lawyer, for example, made regular personal visits to lend a sympathetic ear to a ward. Another attorney took on representation in a culturally-sensitive way that put a ward at ease so that appropriate services could be put in place.
There are always opportunities for attorneys to be a positive, protective force for clients as individuals.
Homa Sayyar Woodrum Esq.'s practice at Woodrum Law LLC  includes adult guardianship and exploitation cases. She is also a founding contributor for The Allergy Law Project.