Note: This article was originally published in the Communiqué, the official publication of the Clark County Bar Association (October 2015).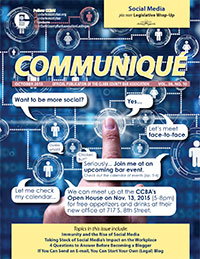 I've interviewed a number of people about how they found their attorney online and being able to see that the attorney has covered an issue similar to theirs is a big selling point. It is one thing to have a general description that mentions your criminal defense practice, but it is another to have an article about what to do if you're pulled over. Most prospective clients are searching for phrases that would appear in the latter, such as "what should I do if a cop pulls me over?" instead of "criminal defense attorney in Las Vegas".
Even if the terms HTML, CSS, and PHP sound like Greek to you – take heart! Blogging platforms have become turnkey over the years and accessible even to beginners. If you can send an e-mail, you can run your own blog and even set it up to let you post via e-mail or user-friendly mobile applications for those days where you are waiting through a long calendar and can dash off a post.
Content management systems
When you type an address into your browser's search bar, that address is really directing you to a spot on the Internet associated with that address. Behind the scenes, it is not unlike opening a folder on your computer – inside are other folders or files and for a Web site you'll find pages and links and images. On your computer, your operating system sets the rules for how files are displayed and organized generally but you are naming them and making the content. The same goes for a Web site.
Blogging platforms are really content management systems–you are organizing your articles or other content into sections for easy access. In fact, the more useful these systems have become, the more you'll find complete law firm Web sites are built around them.
There are a number of platforms to build an online presence. For on-the-go attorneys, Instagram, Tumblr, or Twitter are ways to dip your toe into sharing articles, thoughts, and, yes, what you had for lunch. For a classic blog (short for "Web log"), two major options are Blogger (by Google) and WordPress. Both do a great job offering templates that scale to your visitor's needs (phone, tablet, desktop) and they start out as free with minimal investments needed to remove advertising.
Since many firms use other companies to run their main sites, there is no harm in separating out another domain. I have even seen contracts with companies that may put into question the ownership of your content if you stop paying them. And if you see how easy it is to set up your own site, you may break free of those contracts in no time at all and run the show yourself.
Blogger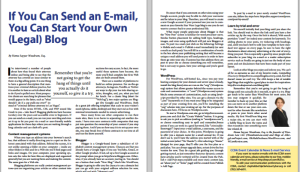 Blogger is a Google-based (now a subsidiary of Alphabet) content management system. Chances are that you already have a Google login if you use YouTube, Gmail, or other Google product. If not, set up a free Google account at the prompt when you go to http://www.Blogger.com. Otherwise, if you already have an account, just log in. You should see a button that reads "New Blog." Much like WordPress, Blogger is going to offer you the chance to use a domain but you can go with your original address selection for now, which will end with ".blogspot.com".
Be aware that if you comment on other sites using your Google account, people may be able to click your username and be taken to your blog. Therefore, you will want to create a new Google account if your personal one you use to comment on your favorite Star Wars Lego blog is one you do not want to connect back to your professional life.
What many people appreciate about Blogger is that the "New Post" screen is familiar for word processor users. Similar button placement for adding bold type, headings, images, and even using spellcheck will put new bloggers at ease. To post via e-mail, just click on the following: Settings > Mobile and e-mail > Publish e-mail immediately (or save e-mails as draft post). You will fill in a combination of words in the box above your publishing setting that will become a unique e-mail address you will send posts to in order to have them go onto your site. If anyone has that address they can post to your site so choose something you will remember, but is not easy to guess. Save your settings and you're good to go.
WordPress
For WordPress, self-hosted (i.e., since you pay your hosting company for your domain and server space already, install the blog there) sites are run on the ".org" (WordPress.org) system that allows greater behind-the-scenes access to code and customization. A ".com" (WordPress.com) system blocks some avenues of customization, such as using JavaScript provided by other sites. You can get a domain via the ".com" framework or if you want your blog to be integrated as part of your existing firm site, you'll be installing the ".org" scheme into your existing set up. For the purposes of discussion here, I'll focus on WordPress.com.
To start a WordPress.com site, go to http://www.wordpress.com and click the "Create Website" button. It is going to ask you to pick an address (ending in ".wordpress.com"), so choose something easy to spell and remember.Bonus points if you can work in a good keyword, like "criminaldefensevegas"! Input your e-mail address, a username, and the password of your choice. At this point, WordPress is going to offer you a domain name for a small annual fee. If you don't use it, you'll have the address you started with at the initial screen (select "No Thanks"). After selecting a "theme" (design) for your page, they'll offer you the free plan or a paid plan. You can always upgrade later, so test drive the free version for now. They do a great job guiding you through getting started, so just remember that your dynamic content (new articles you've written) will be created from the Publish > Add Post steps available and more static content (say, an "about you" or "links" page) will be created from Publish > Add Page.  To post by e-mail to your newly created WordPress.com site, follow the steps here:https://en.support.wordpress.com/post-by-email/
Learn by trial and error
No one will initially find your blog until you share the link. You should wait to share the link until you have a few articles up, by the way. Once the link is shared, Web search providers "crawl" (or index) your content for keywords. Try adding photos to your posts, try tinkering with headings, and, until you learn how to edit your template to have standard text appear on every page, be sure to have the right disclaimers about attorney advertising at the end of everything you post. This is especially a good tip since people who subscribe to your blog via e-mail or a reader subscription service such as Feedly are going to just see the body of your posts and not disclaimers that have been made part of your layout.
Look at other blogs you enjoy and inform you. We can't all be as awesome as one of my favorite reads, Compelling Discovery (https://www.compellingdiscovery.com), but that doesn't mean we can't try. The ABA keeps a list of notable legal blogs that might be a good place to start for inspiration: http://www.abajournal.com/blawg100/.
Remember that you're not going to get the hang of things until you actually do it yourself, so give it a try. Blogger tends to be easier than WordPress for most users, but you may outgrow it quickly). Remember to back up your files so that you can move on to another platform down the line or use your own content for other formats like newsletters or posts to your firm's other social media. My first WordPress blog was a recipe site, so you can start with a hobby blog to learn the ropes and then transition into something more law related.
Homa Sayyar Woodrum, Esq. is the founder of Woodrum Law LLC (WoodrumLaw.com) and blogs at AllergyLawProject.com, OhMahDeehness.WordPress.com, and WLawReview.com.