American Immigration Lawyers Association members can view this month's New Member Division Newsletter when they log into their accounts – the July 2014 issue features the following article on page 6 by Homa S. Woodrum, Esq., Owner and Attorney at Woodrum Law LLC: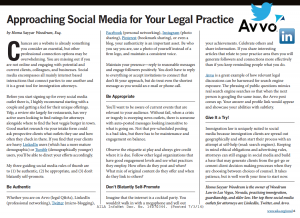 Approaching Social Media for Your Legal Practice
by Homa Sayyar Woodrum, Esq. 
Chances are a website is already something you consider an essential, but other professional connection options may be overwhelming. You are missing out if you are not online and engaging with potential and current clients, colleagues, and businesses. Social media encompasses all mainly internet based interactions that connect parties to one another and it is a great tool for immigration attorneys.
Before you start signing up for every social media outlet there is, I highly recommend starting with a couple and getting a feel for their unique offerings. Yelp, a review site largely for restaurants, has very active users looking to find ratings for attorneys alongside where to find the best veggie burger in town. Good market research via your intake form could ask prospective clients what outlets they use and how often they check in there. If you find that your clients are heavy LinkedIn users (which has a more mature demographic) or Tumblr (demographically younger) users, you'll be able to direct your efforts accordingly.
My three guiding social media rules of thumb are to (1) be authentic, (2) be appropriate, and (3) don't blatantly self-promote.
Be Authentic
Whether you are on Avvo (legal Q&As), LinkedIn (professional networking), Twitter (micro-blogging), Facebook (personal networking), Instagram (photo sharing), Pinterest (bookmark sharing), or even a blog, your authenticity is an important asset. Be who you say you are, use a photo of yourself instead of a firm logo, and maintain a consistent voice. Maintain your presence—reply to reasonable messages and engage followers positively. You don't have to reply to everything or accept invitations to connect that don't fit your approach, but do treat even the shortest message as you would an e-mail or phone call.
Be Appropriate
You'll want to be aware of current events that are relevant to your audience. Without fail, when a crisis or tragedy is sweeping news outlets, there is someone with auto-posted messages looking insensitive to what is going on. Not that pre-scheduled posting is a bad idea, but there has to be maintenance and engagement on balance.
Observe the etiquette at play and always give credit where it is due. Follow other legal organizations that have good engagement levels and see what practices they employ. How often do they post and when? What mix of original content do they offer and when do they link to others?
Don't Blatantly Self-Promote
Imagine that the internet is a cocktail party. You wouldn't walk in with a megaphone and yell out your achievements. Celebrate others and share information. If you share interesting articles that relate to your practice area then you will generate followers and connections more effectively than if you keep reminding people what you do.
Avvo is a great example of how relevant legal discussions can be harnessed for search engine exposure. The phrasing of public questions mimics real search engine searches so that when the next person is googling the same issue, the Avvo post comes up. Your answer and profile link would appear and showcase your abilities with subtlety.
Give It a Try!
Immigration law is uniquely suited to social media because immigration clients are spread out geographically and often start their process with an attempt at self-help (read: search engines). Keeping in mind ethical obligations and advertising rules, attorneys can still engage in social media and build a base that may generate clients from the get-go or cement client decision making processes when they are choosing between choices of counsel. It takes patience, but is well worth your time to start now.
Homa Sayyar Woodrum is the owner of Woodrum Law in Las Vegas, Nevada, practicing immigration, guardianship, and elder law. Her top three social media outlets for attorneys are LinkedIn, Twitter, and Avvo.
____
The above article originally appeared in the July 2014 NMD E-Newsletter for AILA and is copyright 2014 Homa S. Woodrum.